WE ARE THE EARLY CHURCH
We believe the Orthodox Church has preserved and taught the historic Christian faith from the time of the apostles.
ORTHODOX CHRISTIAN NETWORK
About Us
OCN is a nonprofit ministry created to communicate the beauty and richness of the Orthodox Christian faith to believers and seekers throughout North America and around the world.
The Orthodox Christian Church is the oldest Christian Church in the world, founded by Jesus Christ. Its beginnings are chronicled in the New Testament, and all other Christian churches and groups can be traced historically back to it. Orthodox worship is the way Christians have worshiped historically since the birth of the Church.
OCN is a ministry for anyone longing to connect with the faith of those who knew and walked beside Jesus — whether you're learning about Orthodox Christianity for the first time or are a lifelong member of an Orthodox parish.
The Orthodox Christian Network is an Affiliated Ministry of the Assembly of Canonical Orthodox Bishops of the United States of America. The Orthodox Christian Network is a registered 501(c)(3) non-profit organization and all donations are tax-deductible to the extent allowed by law.
Our Mission
To create a sustainable and effective witness for Orthodox Christianity throughout North America and around the world.
Pray
Sign up to be added to our prayer list.
Rev. Christopher Metropulos
Executive Director
Shaped by a life of service to Christ's Church, Fr. Christopher has dedicated himself to using all the tools God has placed at his disposal to spread the light of Orthodoxy across America and around the world. As the Founding Father of the Orthodox Christian Network (OCN), he shepherds a dynamic and rapidly expanding ministry bringing joy, hope, and salvation in Jesus Christ to millions of listeners on the Internet around the world. Fr. Christopher is the former President of Hellenic College Holy Cross Greek Orthodox School of Theology and has served in a number of positions in the Greek Orthodox Archdiocese of America.
Articles by Rev. Christopher Metropulos
Eleni Alexiou
Managing Director
Eleni brings to the Orthodox Christian Network diverse experience as an accomplished director in both nonprofit and for-profit sectors. She holds a BS from Florida State University, a Master's of Clinical Social Work from Simmons College School, a LCSW-C (License in Clinical Social Work) with years of experience working within the Orthodox community. She is a leader in non-profits and administration with 20 years of supervisory experience, staff development & management, coordinating of volunteers, community outreach, and fundraising. Eleni joined OCN to inspire and spread Orthodoxy.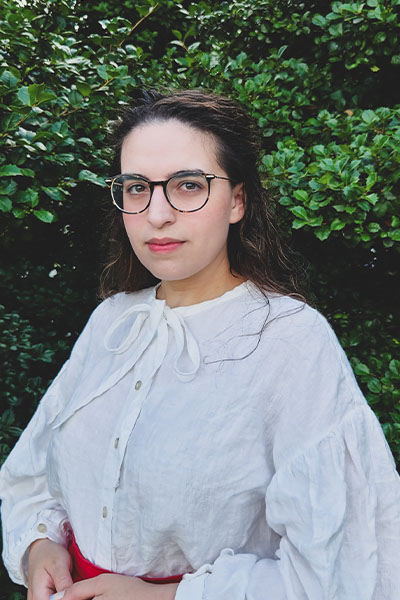 Noelle Wright
Program Manager
Noelle has over a decade of experience in communications across multiple industries. She holds a BA in Communications specializing in digital media and journalism, and brings her experience in content development, digital outreach, event planning and building community relationships. Noelle joined OCN to create valuable resources and feature a diversity of voices from within the Church.
Presbytera Mallory Kasapakis
Program Assistant
Presbytera Mallory provides an inside and outside perspective to the Orthodox Church, as a convert to the Orthodox faith and now a Presbytera. She holds a BS from the University of Central Florida in Marketing and brings her experience in community engagement, event planning, social media management, content development and graphic design. Alongside her husband, Fr. Sampson Kasapkis their family is currently serving the community of Saint Stefanos Greek Orthodox Church in Saint Petersburg, Florida. Presbytera joined OCN to share the beauty of Orthodoxy and to create family resources.
Frank Tsamoutales, Chairman
Tina Uhl, Vice Chairman
John Ioannou, Jr., Secretary
Andreas Alexandrou, Treasurer
Garry Paxinos, Director of Information & Technology
Fr. Bassam Nassif
Fr. Vasile Tudora
Maria Marshall
Hank Hanegraaff
Charles T. Lelon
Yelena Popovic
Gregory Saad
Christopher P. Tsavoussis
John Zevitas
Orthodox Christian Network
OCN Donate
Help us share the beauty and richness of our timeless faith with the modern world.